Tennis Court Maintenance SA
Professionals in
South Africa since
1971!
Follow Us
Latest News
2021/03/10
Introducing a great new product for Tennis, Netball, Basketball, Hockey and Indoor Soccer. Plasticor Sport Tiles. Plasticor Sport Tiles can be laid on an existing court or a new base can be built. The flooring has a 15 year guarantee against fading in the South African Sun.

2020/12/03
There are companies / Project Managing Companies that approach schools and inform them on which suppliers to use and intern using substandard contractors and receiving a cut of the contract price. Leaving the court in a very poor condition within a very short period.

2021/08/25
Our references are current and clients we have work for up to 25 years ago. Dealing directly with our client for over 50 years and developing a professional and personal relationship we do not use any subcontractors. Therefor no passing the buck due to the middle man or creating confusion and additional costs.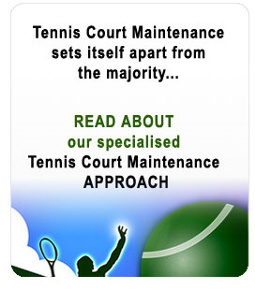 Click here to get a QUOTE

about
Tennis Court Maintenance is a specialist tennis court repair and resurfacing company, utilising an accumulative sixty years in the industry. The business was established in 1971 and has provided numerous tennis clubs, schools and private residences with playing surfaces that outrival those of their competitors. This is partly due to the surfaces materials used, which were specifically formulated to meet the fluctuating weather conditions experienced in South Africa, but the level of service and quality of workmanship is also largely attributed to the expertise gained by the company's management and loyal staff compliment over the years.
Fred Blomkamp, the company's founder and managing member, has been involved in the building, repair and refurbishment of tennis courts and the like for over 49 years. He has managed numerous large-scale contracts throughout South Africa, and as such, has gained expertise in the basic principles of contract management; from the concept and design phases to the actual commissioning and hand-over of the assignment within stipulated time constraints. His understanding of the infrastructural design of the tennis court, coupled with his knowledge of the subsidiary geographical elements affecting the playing surface, ensures that each and every repair contract is dealt with on an individual capacity.
The company's only additional member, Leigh Blomkamp, has project managed refurbishment assignments for Tennis Court Maintenance for over twenty years. In this time, under the mentorship of Fred Blomkamp, he too has acquired the necessary expertise required to produce the highest standards in court surface preparation. He is rigid in the application of stringent project management principles on each contract, including the determining of and management of specifications, timetables and work teams, to ensure that schedules and quality levels are maintained at the highest level.
Tennis Court Maintenance prides itself on the loyalty, dedication and ability of its staff compliment. In addition to being highly skilled in the preparation of surface materials and the refurbishing of playing surfaces, they are acutely aware of the provision of service excellence. As such, attention to detail and quality workmanship has become a trademark of the business.
Tennis Court Maintenance has established itself as highly reputable and professional organisation within the sporting and leisure industry, and has secured and maintained a loyal client base, ranging from high profile corporate concerns to private homeowners. This is because we are focused on achieving service and construction excellence, and ensuring that the client is overwhelmed by the professional and ethical approach taken towards the business and operational aspects of the assignments we are appointed to manage.
Click here to learn more about our SPECIALISED APPROACH