Tennis Court Maintenance SA
Professionals in
South Africa since
1971!
Follow Us
Latest News
2021/03/10
Introducing a great new product for Tennis, Netball, Basketball, Hockey and Indoor Soccer. Plasticor Sport Tiles. Plasticor Sport Tiles can be laid on an existing court or a new base can be built. The flooring has a 15 year guarantee against fading in the South African Sun.

2020/12/03
There are companies / Project Managing Companies that approach schools and inform them on which suppliers to use and intern using substandard contractors and receiving a cut of the contract price. Leaving the court in a very poor condition within a very short period.

2021/08/25
Our references are current and clients we have work for up to 25 years ago. Dealing directly with our client for over 50 years and developing a professional and personal relationship we do not use any subcontractors. Therefor no passing the buck due to the middle man or creating confusion and additional costs.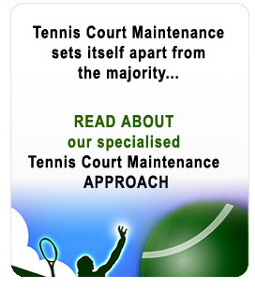 Click here to get a QUOTE

CONCLUSION
As profiled in this document, Tennis Court Maintenance is a secure and well-established concern, ensuring that our clients reap the benefits of our extensive experience within the industry. In order to ascertain the level of competence and expertise at which our organisation operates, we have compiled a list of recently completed projects:
Pretoria University

Pretoria High School for Girls

Crawford College, The Independent Institute of Eduction Pty Ltd

Forever resorts

Germiston Municipality

Bryandale Primary School

Dal Mondeor Laerskool

St Mary's

Johannesburg City Park

CR Swart Hoërskool

Holy Rosary School

Christian Brothers College
However, the greatest indication of our successes does not lie in the scope or size of the refurbishment projects themselves, but in the satisfaction of our clients. They are indeed our best references, and we would gladly provide a list of referees if required
Click here to learn more about our SPECIALISED APPROACH