Tennis Court Maintenance SA
Professionals in
South Africa since
1971!
Follow Us
Latest News
2019/03/10
Introducing a great new product for Tennis, Netball, Basketball, Hockey and Indoor Soccer. Plasticor Sport Tiles. Plasticor Sport Tiles can be laid on an existing court or a new base can be built. The flooring has a 15 year guarantee against fading in the South African Sun.

2018/12/03
There are companies / Project Managing Companies that approach schools and inform them on which suppliers to use and intern using substandard contractors and receiving a cut of the contract price. Leaving the court in a very poor condition within a very short period.

2018/08/25
Our references are current and clients we have work for up to 25 years ago. Dealing directly with our client for over 49 years and developing a professional and personal relationship we do not use any subcontractors. Therefor no passing the buck due to the middle man or creating confusion and additional costs.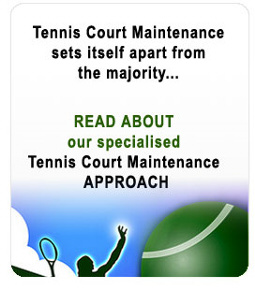 Click here to get a QUOTE

making your selection
Selecting a contractor to refurbish your court surface is not a decision that should be made lightly. The implications of a job poorly done are enormously costly and may have irreversible consequences, resulting in the need for the total reconstruction of the court. Whilst Tennis Court Maintenance understands that the client's decision may be restricted by budgetary constraints, it is important to make the following vital considerations:
1. Has the selected contractor conducted a detailed court analysis and explained the reasons for existing surface damage? In other words, has the court been assessed for poor drainage, foundation errors, etc?
2. Is the selected contractor utilising the appropriate surface materials and methodologies? It is recommended to avoid the following preparations and construction methods at all costs:
Liquid asphalt crack repair

Elastic crack filler

Fibreglass membrane crack treatment

Asphalt patching

Propane heating

Stone screening

Slurry sealing

Rolling of courts
3. What is the workmanship and surface material guarantee offered by the selected contractor?
4. Does the selected contractor utilise the services of a dedicated project team, or does he sub-contract his workforce?
5. How soon can you resume sporting activity after the resurface application?
6. How many years has the selected contractor been involved in the refurbishment of courts?
7. Can the selected contractor provide you with a list of verifiable references?
It is also vital that a damaged court is not left unattended for a substantial period of time, as this may lead to a scenario where the surface are can no longer be repaired, and the court may need to be entirely rebuilt.
Should you have any queries regarding the status of your court/s, or any concerns regarding the above, please do not hesitate to contact Tennis Court Maintenance, who will gladly assist you in the assessment of your playing surface.
Click here to learn more about our SPECIALISED APPROACH