Tennis Court Maintenance SA
Professionals in
South Africa since
1971!
Follow Us
Latest News
2019/03/10
Introducing a great new product for Tennis, Netball, Basketball, Hockey and Indoor Soccer. Plasticor Sport Tiles. Plasticor Sport Tiles can be laid on an existing court or a new base can be built. The flooring has a 15 year guarantee against fading in the South African Sun.

2018/12/03
There are companies / Project Managing Companies that approach schools and inform them on which suppliers to use and intern using substandard contractors and receiving a cut of the contract price. Leaving the court in a very poor condition within a very short period.

2018/08/25
Our references are current and clients we have work for up to 25 years ago. Dealing directly with our client for over 49 years and developing a professional and personal relationship we do not use any subcontractors. Therefor no passing the buck due to the middle man or creating confusion and additional costs.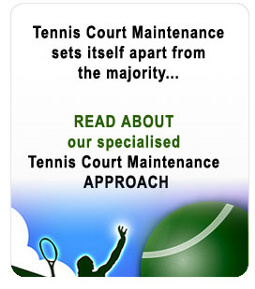 Click here to get a QUOTE

specialised approach
Each court is recognised to be different due to a variety of factors, including amongst others, location, weather, drainage, geology, vegetation, etc. All these components ultimately contribute to the stability of the court, and need to be considered in the refurbishment process. Without a thorough understanding of these elements, and the implementation of corrective measures to prevent or retard reoccurrence, the resurfacing of a court surface is often rendered futile. In fact, the industry is notorious for applying surface applications that merely "cover-up" imperfections, leaving the client with the same surface problems within a few months following the renovation.
Tennis Court Maintenance sets itself apart from this unfortunate majority, and realises that a referring client is of vital importance to ensure the long-term viability and sustainability of the business. As such, we endeavour to provide our clients with superior quality and commitment in all aspects of the contract as listed below:
1. Client Service
Ensuring that one or both of the company members is available to the client for court analysis, the issuing of a quotation and daily site inspections.
Advising the client on the recommended course of action to be taken for the repair of their surface damages.
Providing the client with ongoing input throughout the refurbishment phases of the project.
Ensuring that project teams, equipment and materials remain as unobtrusive as possible, and are not an imposition on the client.
Ensuring that the project is managed and completed according to the predetermined pricing structure, quality standards and project deadlines.
Reporting to the client on an ongoing basis as to the progression of the project.
2. Material Usage
We have established a well-grounded, long-term relationship with product suppliers, and as such, have been able to negotiate considerable discounts on the materials used for surface renovations. This enables us to offer our clients a highly competitive rate when compared with other reputable tennis court repair contractors.
We utilise a specially formulated hot pre-mix asphalt overlay product for the most effective repair of cracks. Other products or methods, including liquid asphalt, elastic crack filler, fibreglass membranes, asphalt patches, propane heating, stone screenings, slurry sealing or the rolling of courts, have been tried and tested by ourselves, and have proven to be highly ineffective in the long-term treatment of court surfaces. Even with the use of a hot pre-mix asphalt overlay, courts that have been left in a severely damaged state for an extended period of time, may experience a reappearance of cracks, and may need to be entirely rebuilt. This will however be indicated to the client upon initial consultation.
The actual surface preparation is an all-weather Plasticor material, specifically designed to address the harsh weather conditions experienced in sub-Saharan Africa. It has been proven to extend the life of a well-maintained court for up to fifteen years, in comparison with other materials, which, at best, may provide a functional playing surface for five years. Because of this, Tennis Court Maintenance offers an unrivalled two-year guarantee on its resurfaces.
Following surface application, sport activities can commence immediately. This is particularly convenient when time constraints dictate the hosting of sports events or tournaments.
3. Additional Services
In order to provide our clients with a comprehensive service package, Tennis Court Maintenance offers the following additional services:
The resurfacing of tennis courts, netball courts, basketball courts and korfbal courts.
The rebuilding of tennis courts, netball courts, basketball courts and korfbal courts.
The erection of fencing.
The erection and painting of poles.
Water drainage
The building of retaining walls.
The erection of flood Lights.
The construction and resurfacing of practice areas.
The supply of sports nets for all sports.
The construction of practice cricket wickets.